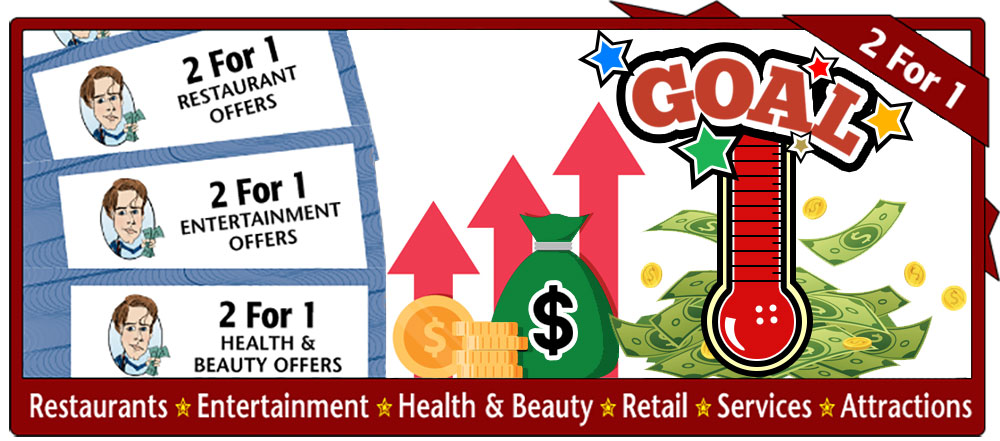 NEED A FUND-RAISER?
Johnny's Coupons

TM

Can Help!
Johnny's Coupons can provide a very profitable means of fundraising and since 1999 has assisted individuals and organizations with meeting and exceeding their fundraising goals.
Johnny's 2 For 1 Coupon Books have been utilized as a fundraiser by Schools, Churches, Athletic Teams, Non-Profit Groups, Individuals, and Companies of All Sizes.
Johnny's Coupons Fundraising Program is suitable for all ages, requires No Up-Font Investment*, and it is easy to administer - often with a fast sales turnaround.
Here Is How It Works:
Members of your organization ask potential supporters to purchase a Johnny's 2 For 1 Coupon Book to support your cause.
It is Easy to Sell What People Want.
Everyone Wants Discounts.
Your potential supporters can choose from any of the Johnny's 2 For 1 Coupon Book editions available at the time of your fundraiser and that you decide to sell.
Many of Johnny's 2 For 1 Coupons are worth more than the price of the book so your supporters can start saving right away. Your supporters will find it PAYS to support Your Cause and are likely to become repeat supporters (customers) each year.
Starting with your first book sold, you will earn commission for each Johnny's 2 For 1 Coupon Book you sell.
Potential Supporters are all around you. You, and members of your organization, probably know family members, friends, co-workers, and/or past supporters who order Johnny's 2 For 1 Coupon Book each year. This year they could buy it from you.
Join our ever-growing list of satisfied clients and let us help you make this your Most Successful Fundraiser Yet!!
To get started selling Johnny's 2 For 1 Coupon Books as a fundraiser, please call us Toll Free at 1-877-243-8241 (9am to 9pm AST) and ask to speak with one of our fundraising consultants in your local area.
We will answer any questions you may have, confirm if inventory is available for your selected edition(s), and arrange delivery of your order. (*On approved credit.)
Fund-Raising FAQS