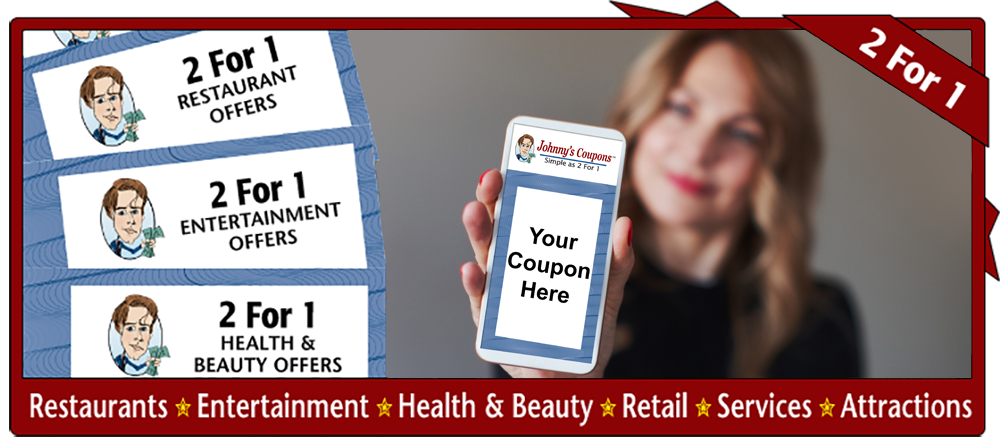 Promote Your Business in
Johnny's 2 For 1 Coupon Books
Advertising with MEASURABLE RESULTS!
Advertising with Johnny's Coupons is the most cost-effective and low-risk way to reach new customers and increase your market share. We know this because participating merchants have told us many times since we first started publishing Johnny's 2 For 1 Coupon Books in 1999.
Regardless of the size of your business or how long you have been operating, Johnny's Coupons has the program to expand your customer base.
When you join our network of participating merchants, you immediately partner with experienced, advertising professionals that will work to promote your business and start right away.
Johnny's Coupons are uniquely designed to change customer buying patterns, create new habits for consumers, and encourage them to frequent your business.
Many of our participating merchants do not typically discount, however, Johnny's 2 For 1 Coupon Books have proven to be so effective in introducing and retaining new customers that many clients choose to advertise with us year-after-year. Some clients have continued to advertise with us for over 20 consecutive years!
To get your business promoted in the next edition of Johnny's 2 For 1 Coupon Book, please complete and submit our New Merchant Form.
If you would prefer to speak with someone, please call us Toll Free at 1-877-243-8241 (9am to 9pm AST) and ask to speak with one of our advertising consultants in your local area.
We will answer any questions you may have and arrange a meeting to discuss your needs and goals.
Advertising FAQS